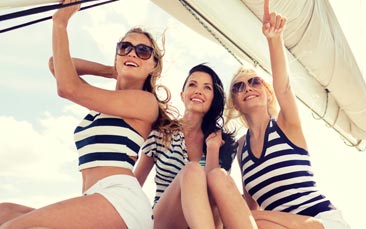 Sample the A-list lifestyle onboard your own private yacht. Yep, Simon Cowell, Kate Moss, Taylor Swift, even the 1D boys have set sail on their own private party boat and now it's your turn on our Ibiza hen party private yacht charter.
This really is what life is all about, being with your best friends, sitting under blue Mediterranean skies, lazily skimming through the lapping waves and wishing Monday away so you can live this moment for just a few days more. As hen party experiences go this really is at the very top, elegant, sophisticated and the perfect tonic for the bride-to-be after weeks of often stressful wedding planning.
The yacht will be exclusively yours for a half-day and you'll get to see Ibiza from a truly fantastic vantage point that few visitors to the island experience. You'll be greeted by the skipper and welcomed aboard, once on deck you'll have a quick safety briefing before setting sail. Once underway it's time to wet your whistle (well, all this luxury is thirsty work) with a glass of cava as you relax on deck.

From that point on the yacht is all yours, take a turn at the helm, catch a few revitalising rays and top up your vitamin D. It's also the perfect chance to work on your pre-wedding tans but make sure you slap on extra sun factor as the reflection from the sea really does intensify the effect of the rays and while we'd love you to see lobsters we don't want you to be lobsters.
One other thing that might be glimpsed is dolphins who are regular visitors to these waters. If you fancy your own Little Mermaid moment then you can weigh anchor and go for a swim or snorkel either offshore or in some of Ibiza's magical coves.
Parties are also welcome to bring their own food and drink.