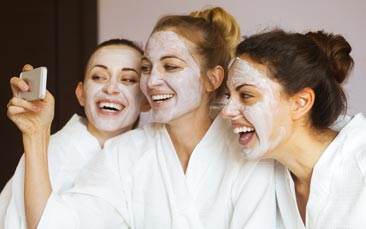 Whether you and the girls are in dire need of a detox following a big hen night out on Ibiza's sunset strip or wanting the perfect place to get ready and fabulous for an eventful evening, no hen do is complete without a spot of relaxation.

Our Ibiza spa experience is one of the best in Europe and will wash away any lingering hangovers with two hours of pampering and relaxation in the best company you could possibly wish for. With a heated pool, jacuzzi, massage jets, Swedish sauna, steam bath and massaging showers among its many facilities, this is the perfect spot for the hens to get back to themselves.

If you're feeling extra fancy, you can treat yourselves to a 15-minute massage upgrade, it'll be sure to rid you of any niggles or sore spots before you leave, upgrades are available at an additional cost.

Ridding your body of any toxins from a heavy hen night out will be easy in our soothing Ibiza spa experience centre. Of course, if you just want a quiet day out with the hens then this will meet all your needs too.

For many nearly weds, planning a wedding and finally tying the knot can be one of the most stressful experiences of their whole life, so you can't go wrong with a spa day to cleanse her of any wedding worries with 2 hours of heavenly bliss.

Please note: If your group is larger than 12 it will be split into two smaller groups.