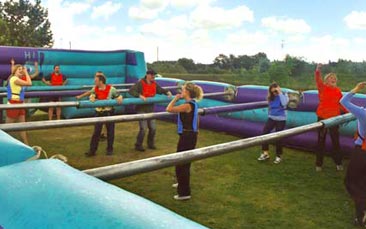 Whether you can be found cheering on the local side or switch off whenever football's mentioned, with our human table football activity, playing the beautiful game has never been so fun! You and your fellow hen party girlfriends will become the plastic players in a giant size version of table football. You'll all be tied to the bars in your respective positions in a big, inflatable 'table' and then the game gets going! Being restricted only to horizontal movements makes this event terrifically funny and luckily, ideal for people of all sporting abilities!

You and the girls will arrive on-site and before being briefed on everything that happens on the human table football activity, you'll get clued up about safety and how the rules of the game work. After all the boring stuff is out of the way, let the games and the battle commence!

Human table football, as well as being hilarious, is a great ice breaker and perfect for setting the pace for any great hen party and it makes for a totally unusual element to the weekend that all the girls will laugh themselves silly over! It's also a great activity to pair up with other action ideas, such as sumo wrestling or beer keg racing, so have a look at the carefully-crafted packages on offer, add on whatever else you fancy doing and leave the rest to us!