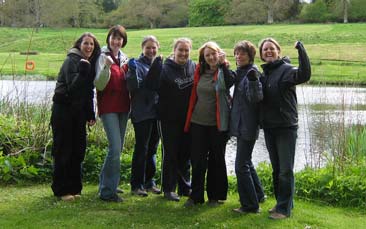 Our hen challenge day will see you and the girls get seriously active. You'll take on some awesome challenges in our outdoors centre in Brecon, an area that's home to some of the most intense SAS training exercises going.

We don't know about SAS, but you and the ladies will certainly bring the SASS to this super challenging day of hen party action. This really lives up to its name; your party really will be challenged in every possible way. But after you're done you'll definitely be able to look back on what you've accomplished and feel really proud of yourselves!

You might even discover some hidden skills on your adventures through this course, as you shoot, zip-wire and climb in a competitive activity like no other. This unique outdoors experience really will require you and the girls to work as a team if your side is going to take the title of hen day champions!

Although all the competition is in the spirit of good fun, and our friendly instructors will always be close by to make sure everyone keeps having the best time possible and to make sure nobody gets caught stuck halfway up a climbing wall!

The exact combination of activities will always depend on the day and the group, so you'll never find yourselves completing the same course twice. This also means that there's bound to be some surprise activities, so you're sure to be absolutely thrilled no matter what you face.

Our hen party challenge day is sure to get all the girls giggling as they take on an activity that will bring out the best in everyone!