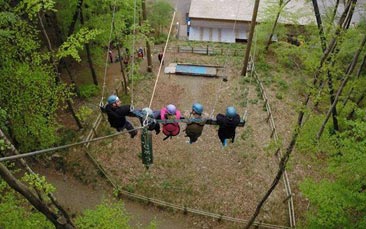 Ladies, sometimes, to discover true adventure, you've got to look to the skies. Here at GoHen, we're always on the lookout for the kind of activities that make your big weekend extra special, and in our hen party giant skyswing, we've found something that's bound to make your spirits soar! (Literally)

Set against the gorgeous backdrop of Snowdonia National Park, this adrenaline-pumping activity will see you and the girls taking on the UK's highest freefall swing. This is definitely one for the wannabe Lara Crofts, as with a nerve-shredding 80ft drop and hitting speeds of up to 60mph this is one ride that certainly isn't for the faint of heart.

But if your hens fancy themselves as the next Charlie's Angels and they love the kind of white knuckle outward bounds action then there's great fun to be had here. Hearts will be pumping as you're hoisted up to launch height, and the laughs will turn to screams as the instructors send you soaring through the air!

There are sure to be some jangling nerves before you take flight, but after you've conquered the hen party giant skyswing you'll be desperate to go again. There are plenty of hair raising activities out there for you to try on your big weekend, but this is something that hens both young and old can enjoy. We all loved seeing how high we could go on the swings when we were girls; now it's time to take that experience to extreme heights!