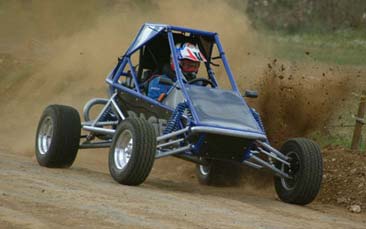 Bored of your daily commute? Had enough of being stuck in traffic? Then our fast and furious Edinburgh hen party rage buggies could be the perfect antidote. The track has been specially designed for you to get the most thrills and spills and show those pesky stags what us women drivers are really capable of with some hen powered road rage.

This is kick-ass driving at its finest. You'll arrive and after a quick briefing head to the kit room to get glammed up, rage buggy style. Then it's over to the track where you'll clap your eyes on the rage buggies. Capable of hitting 60mph these 700cc wee mechanical beasties are the racing equivalent of Tasmanian Devils... But with Scottish accents.

These full throttle tartan bullets have special harness seat belts and roll cages for safety, although we don't expect you to be pulling any stunts that will push them that hard. However push them you can, they are designed for the exact terrain you'll be racing on but they'll pretty much chew up and spit out any ground you point them at. It's then down to your individual driving skills.

You'll have a practise session where each of the hens will take the hot seat of the rage buggies. Then the fun really begins as you race in a series of heats before a grand finale. The fastest hens of your session with enjoy a podium finish and champagne celebration which they can spray in the air in time honoured racing tradition or save to sip later.