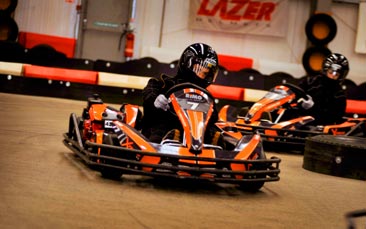 Our Edinburgh hen party go karting experience is the perfect way to add a little va va voom to your hen weekend. For hens looking for more than the usual genteel hen party activities, this is a huge rush that speed queens will absolutely love!

Competitive hens are going to really get a buzz too as you tackle one of Scotland's best go kart tracks. You'll be hitting speeds of up to 40mph (which feels even faster when your bum is just inches from the tarmac) over the whopping 600 metre track in 200cc karts. Our Edinburgh hen do karting Grand Prix event is truly something special, not only do you get to race your mates in the top karts in the land, but the circuit itself is the first in the country to have an amazing dual fly-over!

Chicanes, hairpin turns, electronic race timing, straights, fly-over, tunnel, all help add to the incredible adrenalin, white knuckle, wheel to wheel action. After a few practise laps to get used to the karts you'll then go head to head in a series of heats. Perfect to bring out your competitive sides as all the action is tracked and recorded by the integrated F1 Analysis System which times drivers to within 100th of a second, so no need for an action reply. You can then see your lap times to see how well you're doing and if you're improving.

You can then watch the rest of the heats from the comfort of the cafe before (hopefully) pulling on your helmet for the grand final. The top 3 races will get to enjoy a podium presentation. Although all the hens can all pile on for a great hen party team photo.