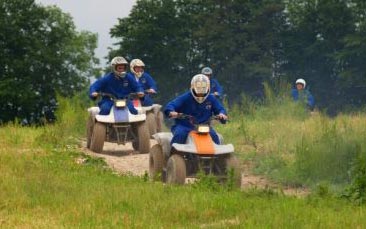 Hen parties are the perfect opportunity to really let loose and try something new. Our Edinburgh hen party quad bike safari ticks all the boxes for full throttle, adrenalin-pumping action.

With over 50 acres of stunning woodland to explore you'll be guided all the way by experienced instructors to keep you pointing in the right direction and ensure you get the most out of this amazing experience. Riding 125cc Yamaha Grizzly quad bikes you'll soon be whizzing over, round and through the red and black runs, hill climbs, boggy marshland, fallen trees and all kinds of tricky obstacles.

This definitely isn't your normal 'genteel' hen party experience but is ideal for hens who demand and want to experience more. More speed, more fun, more laughs and more adventure. While lesser hens might be happy merely pootling around traffic cones and doing figure of eights, you'll be axle-deep in mud, puddles and excitement on what is one of the best quad bike sites in the UK.

And there's no waiting around either, each hen will get her own bike (no need to share) with up to 30 quads able to go out together at once. You'll be like your very own gang of 'Hen's Angels'.

Once back at base you can take advantage of the changing rooms and vending machines to freshen up and feel the amazing buzz you get from these superb all-terrain vehicles.