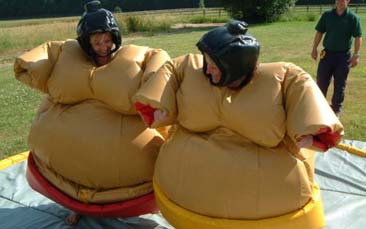 Sometimes you just have to toughen up a little. This, ladies, is your chance to do battle. And it's totally bonkers!

There are two madcap challenges that will have the girls laughing long into the evening's festivities. You'll also be able to take some fantastic photos to remember the day or upload instantly to social media.

Gladiator Duel
It's hen vs hen in this hard-hitting, hilarious battle. Wearing head guards and armed with pugil sticks (large padded batons), the two combatants will stand on pedestals above a huge inflatable mattress. Once the ref blows his whistle the aim is to biff, bash, and bosh your opponent off her platform.
The hen left standing will go through to the next round until just two hens are left for a grand finale. "Let's get ready to ruuuuuuumble!"

Sumo Wrestling
Lightweights won't be at a disadvantage in our crazy sumo wrestling challenge. Once again you'll be facing off against your fellow hens (the instructors will change things around so you're all facing different opponents) in single combat. This time however you'll be wearing giant inflatable sumo wrestling suits, complete with mawashi (the giant belt that looks a bit like a nappy).
The action takes place on a large padded sumo mat, where the aim is to either pin your opponent to the ground or throw them from the ring.

It's all totally daft, brilliant fun and something really different to add to your hen party weekend adventure. So... game faces on... it's time to do battle!