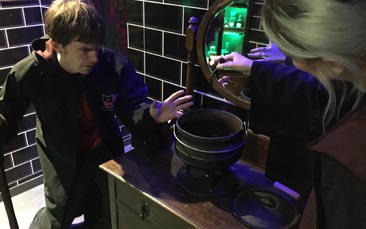 Add an extra element to your Harry Potter themed weekend with a fantastic Potter themed escape room.
Our escape rooms are all about working as a team and sharing lots of laughs, and when the door shuts behind you, things get even funnier. You'll soon see who can stay cool under pressure, who the best problem solvers are, who just panics and falls to pieces as time starts to countdown. Escape from the room and you'll be celebrated in Hogwarts and can continue with your happy weekend. But if you fail...
There are two amazing escape rooms.
Prophecy Quest
The very world of witchcraft and wizardry is in peril. The Dark Lord has collected The Prophecies, he's on his way now to bring them all together and unleash their power. It's a race against time, only you and your fellow hens can stop him and you have just 50 minutes to uncover The Prophecies and use them to prevent Voldemort and his evil plans.
Voldemort's Resurrection
Just when you thought you'd finally seen the last of him the Dark Lord still seems to be casting his shadow. This time it's his followers that have a plan. You must enter the Mausoleum of the Dead, seek out the right incantation and use it to retrieve the hidden artefacts and create a truly spellbinding potion. This is a test of dark magic but get it wrong or run out of time and the Dark Lord shall rise again!
Not everyone wants to be the good guys. If you want to you can play as baddies!
Wizarding Tournaments
If you have a large group that's too big to fit in one room then you can book multiple games and we'll run a wizarding tournament to see who has true Hermione grit and a little bit of Ron good luck.