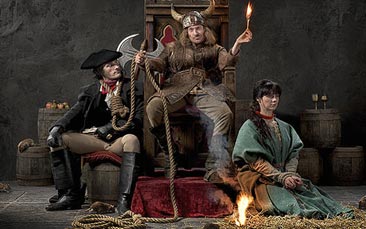 Fancy a few thrills, chills and lots of laughs on the hen weekend? Our Edinburgh Dungeon hen party tour is one of the funniest activities north of the border.
The tour is hosted by a selection of freaky but hilarious characters (made up of actors and comedians) who'll walk you through Edinburgh's dark and gruesome past. There is plenty of audience participation with a trial in front of a judge, a visit to the torturer, a sneak at the business plan of Burke and Hare, a ghostly visit from the mysterious 'Green Lady' and more. There are also two fantastic rides, the Boat Ride, the Drop Dead ride and a labyrinth to get lost in.
So grab the nearest hen's hand and get set for a spine-tingling tour and freaky cast of characters. They're dying to meet you.
The Judge - Members of the tour will be made to stand trial for the previous crimes and misdemeanours, are there any hens guilty of crimes against fashion?
Burke and Hare - Body snatchers and Edinburgh's most infamous sons. They would literally kill to have a body like the bride-to-be's. (Gulp!)
Maggie Dickson - She's been 'hanging around' waiting to meet you. Her story is quite simply amazing!
The Green Lady - This lost apparition might hold the secret to a brutal crime of passion, but she might not be all she appears...
And many more.
Rides:
The Boat Ride - Enter the caves of Galloway with The King's Men to hunt for cannibal Sawney Bean, who with his incestuous ancestors are in search of helpless travellers to invite for dinner.
The Dead Drop - Perhaps now's not a good time to be 'shown the ropes' at Grassmarket's famous gallows.
The Labyrinth - Made up of a hall of mirrors you simply have to make it out... Alive.