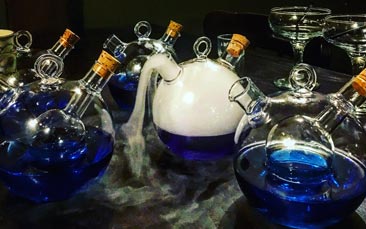 If the bride-to-be has always been a Potter fan and has grown up to also develop a love of cocktails (and booze in general) then she'll absolutely love this Harry Potter cocktail potions class that takes two dashes of Hogwarts, three measures of dancing juice, gives it all a shake, and serves with laughter.
Expect lots of giggles and some amazing flavours. Because we all love cocktails, but these aren't just any cocktails, these are specially themed Harry Potter cocktails that take a little more magic and special equipment that wouldn't look out of place in Professor Snape's classroom. An expert potion maker who also happens to be a dab hand at cocktail mixing will be on hand to show you all how it's done. Then once you've learnt the basics it's your turn.
On the day you'll get to choose two magical cocktails to make:
Poly Potion
Liquid Gold
Bubbling Bones
The Dark Lord
Unicorn Blood
Love Potion
And if all that wasn't enough, you can also buy a glass of Butterbrew ale because, well, if you're going to get magical, you might as well do it properly.
As it's a hen party you can add a little bit of fun competition to see which hen makes the best potion. No, that doesn't always mean the booziest drink, this is the subtle art of mixing just the right amount of different flavours to create the perfect balance. You're not trying to conjure up the Dark Lord! And if you make them too strong you could wake up with a head that feels thicker than Hagrid's beard, so don't say we didn't warn you!
Brilliant fun, fabulously tasty and a little bit boozy, our Harry Potter cocktail potions class is a sure-fire way to conjure up a special weekend.