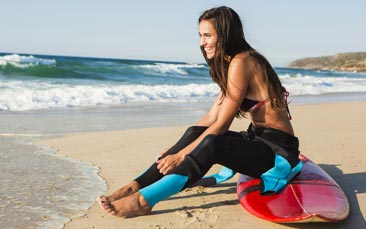 "Like totally awesome!" Surfing is undoubtedly the coolest sport ever invented, hanging out on the beach, catching waves, getting a tan, living on a diet of beach BBQs and coconut cocktails... ok, so maybe we're getting a bit carried away but our Cardiff hen party surfing is totally bonkers fun for girls who fancy an altogether bigger adventure.
You and your fellow beach babes will start with meeting our cool surfing instructors at one of the UK's best-surfing destinations that attracts board enthusiasts and pros from across Europe. Once you're kitted up in wetsuits you'll hit the beach and learn the basic techniques on dry land. You'll soon get the hang of it and be surfing away like legends... then you'll need to actually get on the water.
Our instructors will be with you throughout the session to keep all the hens safe and make sure everyone gets the most from their session and as much one-to-one coaching as possible so you'll hopefully all soon be "hanging 10".
Our Cardiff hen party surfing isn't just a superb and really different activity for the hens to enjoy but the location is stunning and a real chance to get back to nature and do something superbly low-tech and organic. No computer screens, no internet connection, just some great friends, exciting waves and fantastic laughs.
After the session, you'll receive photos and videos of all the girls in action as part of your package.
You can create a complete day of hen party fun by combining activities into a large challenge day: