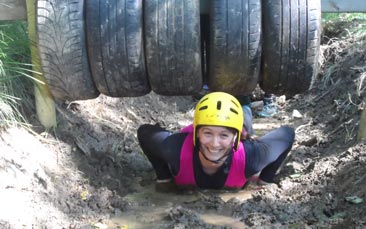 Some hens like to celebrate the forthcoming big day with a few cream buns and a nice cream tea, others head to the spa to get pampered, some sit around sipping cocktails and exchanging gossip...

While other hens want to kick ass!

Adventure loving hens can now really get into the thick of things with our Cardiff hen party assault course. It offers one and a half miles of full-on hilarious action that really will put the hens to the test. Not only is it a great work out, fantastic for the skin (well, you'll get an extreme mud pack, that's got to be good for the skin hasn't it?) but it will also create some fantastic hen party memories for the bride-to-be and unite you all in a crazy hen mission in a beautiful setting.

A team of experts will be on hand throughout the event to put you through your paces, show you how to tackle the various obstacles and also make sure everyone is kept safe at all times. The various elements include; running, climbing, jumping, crawling, swimming, balancing and teamwork to get all the hens back to base.

Obstacles:
Stepping stones
Bridges over streams
Under & over logs
Balance poles & beams
Spiders web
Cargo net crawls
Vertical wall
Burma rope bridge
Tyre run
Tunnel crawl
Mud pit swing
50ft cargo net ascent
Pipe crawls
Monkey bars (over a pond!)
This hen Cardiff hen party assault course is an epic day of full-on hen party adventure that will see all the girls working as a team and enjoying huge laughs along the way. So if you're ready... Set... Go!