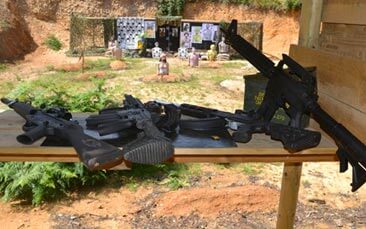 If we're to believe the things we see on TV then it's just a matter of time before we're under attack from a zombie apocalypse and surely if it's on telly it must be true mustn't it?!? Here at GoHen HQ we're no scientists but we do think it's always best to be prepared just in case.

So we've set up a Bournemouth hen party zombie survival training camp to get you ready to give those pesky zombies a damn good thrashing and make the undead, erm... Deader.

You'll face a series of different training techniques to help make you zombie-proof. And just for fun, we're going to make a competition out of it. The winner might be asked to join our elite squad of zombie-slaying heroines. The losers will get fed to the zombies.

Assault Rifles- If you're fans of action movies, now's your chance to get your hands on some amazing firepower. You'll hit the shooting range with MP5, UZI and H&K 416 to take aim at exploding targets and bleeding zombie torsos.

Axe Throwing - Forget Shaun of the Dead, its' no use throwing Bucks Fizz albums if you want to make sure the brain munching freaks stay down you need to throw something with a little more clout!

Crossbow - With a draw weight of 80lbs, these bows are a sure-fire way of putting a bigger arrow shaped hole in their social diaries.

Archery - Robin Hood never had the problem of the living dead viewing his noggin as 'lunch'. Mind you, he never got to shoot at exploding targets either!

Weird zombie facts:
There is a World Zombie Day (first week of October).
Voodoo loving Haiti is so concerned by zombies that it is actually illegal to turn someone into a zombie there.
Zombification does happen in the animal kingdom, gypsy moth caterpillars are infected by a virus that causes them to wander strangely and head high up into trees where they die, liquefy and drip the 'zombie virus' onto other caterpillars below.
The worst zombie movie of all time is 2008's Zombie Strippers. Nobody wants to see them on a hen weekend!