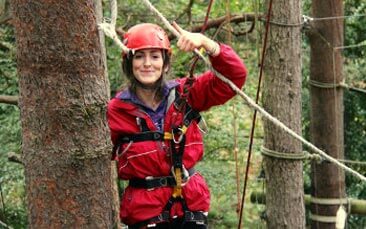 Our Bournemouth hen party multi activity day lets you have your cake and eat it by offering you a selection of exciting packages featuring some of the best challenges around on one fabulous activity site.
If you're an energetic, adventure-seeking group of girls, then you shouldn't settle for just one event on your special weekend away. Double your activities, and you'll double the fun, making for a day of outdoors excitement that the girls will remember for a long time after you've left.
With a range of packages available, you can choose the one best suited for your bride-to-be. She might love the physical challenge of climbing to the canopies in the high ropes course, blasting the competition away in virtual warfare, or our bushcraft survival sessions can be a great way to prove to the men that 'sisters doing it for themselves' is the only way when it comes to hunter-gathering!
On our Bournemouth hen party multi activity day, you can choose from:
Bushcraft and High Ropes...
Learn how to build an outdoor shelter.
Discover survival techniques such as 'tracking'.
Add-on a lunch and rustle up a stew on an open fire.
Then it's time to learn the ropes...
...before climbing all the way to the treetops!
High Ropes and Virtual Warfare...
Take on the exciting high ropes course.
Once your feet are on solid ground you'll kit up...
Put on your war paints...
Lock and load and go all-out G.I. Jane in virtual warfare!
Use infra-red guns in a variety of game scenarios.
Compare scores to find out who's got laser-accuracy!
Canoeing and Virtual Warfare...
Climb into your canoes...
Try not to capsize!
Learn the basics before a few games.
Then you'll test your skills with challenges.
Once on dry land you'll get kitted up for action.
Take on the girls in friendly hen vs hen competition!