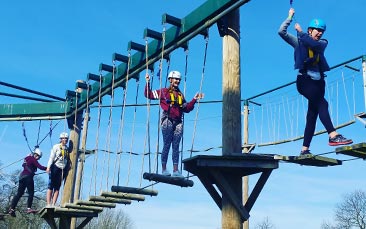 Yes, you could go and relax at a spa, you could enjoy some low-pressure retail therapy or something more elegant like afternoon tea. But that really isn't your bride. It's time to get active and enjoy some huge laughs.
You'll be kitted up with safety harnesses and helmets by the instructors and shown how to hoop up to the safety lines. Then it's time to get busy!
Best of all is the adrenaline-pumping action and an incredible sense of achievement at the end. No, this isn't your average hen activity but you're not your average hens.
1 - Climbing Wall
11 metres, with special hand/footholds built into the wall. All you need to do is climb from the bottom to the top. And for added fun, you'll be being timed to see who does it the fastest.
2 - Low Course
After the heights of the climbing wall, you'll be down to a more genteel 5-metres including a log bridge, crawl tunnel, and cargo net.
3 - High Course
Go big or go home! 10 metres high, you'll take on islands in the sky, swinging tyres and a Burma bridge.
4 - PowerFan
Truly terrifying. You'll stand 11.5 metres in the air, the challenge is then to step into thin air and let the PowerFan ease you down to the ground. The ultimate leap of faith.
5 - Zip Wire
It's 70 metres of high speed, "WEEEEEeeeeeeeeeee!!!". Just so much fun!