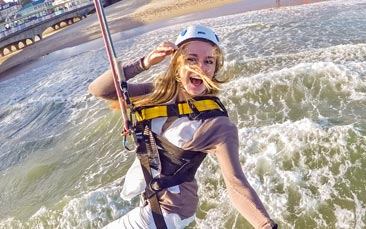 "WEEEEeeeeeeee......!"
At GoHen HQ we have scoured the UK and Europe in search of the biggest and best adventure but there is nothing we know of that will put a smile on your face and get your day off to such a buzz as this spectacular zipline. In fact, we'd go as far as to declare this as possibly one of the best hangover cures ever (in a kill or cure kind of way).
One of the most unique lines in Europe it stretches from the end of the pier, spans over the tourists and sunbathers and ends safely on the beach.
The session starts with the reassuringly friendly and experienced team of instructors who will sign you in and get you kitted up with your safety harnesses and helmets. Obviously this is the point to get all the girls together for a team photo. You'll then climb the tower and get to enjoy the stunning coastal views before that final step.
There are dual ziplines meaning two hens can take the plunge at the same time.