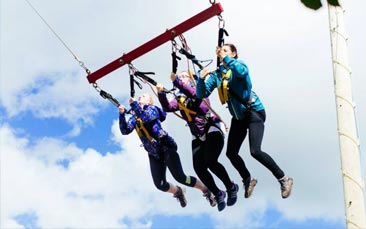 If you are a group of active have-a-go hens that are looking for something more than cream tea and polite conversation then this action packed Belfast Hen Activity Day is perfect! First up, paintball is an absolutely brilliant group activity which requires plenty of teamwork and is a great way for competitive hens to get nicely warmed up.

You also have a choice of 2 massive additional activities, taken from this impressive list:

4x4 Driving - Driving a Land Rover Discovery Jeep on a 7.5 mile course is enough the perfect release for any road rage and proof once and for all that women are the best drivers.

Archery - Move over Robin Hood, Maid Marion and the girls are here!

Blindfold Driving - You'll be relying on your fellow hens as once blindfolded they'll be giving you directions to get you round the course in one piece.

Body Zorbing - Strap inside a giant inflatable ball and let the fun begin - a real laugh when attempting to play football or sumo wrestle.

Clay Pigeon Shooting - A refined country sport that really will get things going with a bang.

Climbing Wall - This epic climbing wall is over 40 feet high and will give the whole group a massive sense of achievement.

Drop Zone - The first purpose-built recreational free-fall stunt jumping facility in Europe is unforgettable; you will jump from 30 feet on to a giant stunt mattress.

Giant Swing - An adrenaline-fuelled version of the old playground favourite... on a much grander scale.

Hill Rally - A hell of a fast ride in the passengers' seat of a Land Rover... in what is known as a 'White Knuckle Run'.

JCB Driving - Race a 1.5-tonne digger: totally bonkers fun.

Rodeo Bull - Test yourself on the infamous Bucking Bronco!

Zip Wire - At approximately 100m high and over 500m long, this zip wire is incredible, adrenaline-fuelled fun, taking in epic views of the valley at high speed.

Note: Our VIP Package is also available; your choice of SIX activities in one full-day session. Please speak to your account manager for further details.