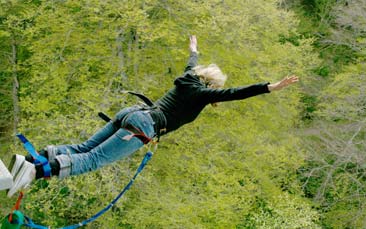 One thing every hen party should be is memorable for all the right reasons and, well, leaping off a 160ft crane with just a huge elastic band strapped to your ankle is pretty darn hard to forget! Daredevil hens and those with a Lara Croft-like sense of adventure will absolutely love this incredibly life-affirming challenge where the only way isn't up... The only way isn't even Essex... The only way is down, very, very fast!

Our onsite Belfast hen party bungee jump team are brilliant, hugely professional and have a great sense of humour. They'll be on hand to calm any nerves and make sure all the hens have a fantastic experience. This certainly isn't your run of the mill hen party experience and takes special people and special friends to quite literally go over the edge.

The event starts with a safety briefing, you'll need to make sure you turn up in plenty of time to go through the safety briefing and checks before you're allowed to jump (safety is absolutely paramount and all participants need to go through the full gambit of safety checks prior to taking the plunge). Once you've all been checked and signed any paperwork the instructors will help you fit your safety harnesses. It's then time to send final messages to your loved ones, leave an update on your Facebook pages and whisper any last-minute prayers.

You'll all be in it together which makes it such a great experience to do with close friends. Make sure you have those smartphones handy to get photos and also film each hen making the big leap of faith.

"Three..."

"Two..."

"One..."

"Bungeeeeeeeeeeeeeeeeeeeeeeeeeeeeeeeeeeeeeeeee.......!!!!"

This really is a massive tick on any bucket list and a day the nearly-wed and her hens will remember for years to come.