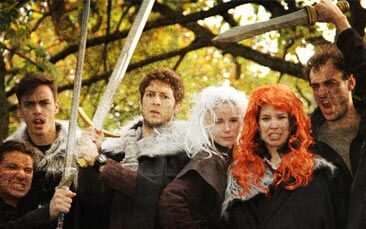 If the bride-to-be and her hens are hooked on HBO's smash hit TV show Game of Thrones based on George RR Martin's historical fantasy novels, then this is the perfect hen party adventure for girls who prefer action to sitting around spas drinking carrot juice.

You'll be taken to Winterfell, home of the Stark family and instantly recognisable from the fantasy drama. On arrival, you'll be met by members of the Night's Watch who will get you all kitted up in suitable Night's Watch costume. Your adventure will then begin...
Shoot Your Own Scene - A totally unique experience. Your party will be split into teams and given a camera to shoot your own GoT scene. You can play your favourite characters, include classic lines from the show or create your own completely original scene. Dressed in costumes you really will be able to create a wonderful memento of your weekend which you'll be able to take away and keep.
Archery - This is a fantastic sporting competition held beneath the walls of Winterfell Castle on the exact spot where hunky Jon Snow (Kit Harrington), Rob Stark and Bran Stark stood. Using medieval bows you'll aim to see who among the hens is top shot.
Ned's Picnic - Using recipes taken from the official Game of Thrones cookbook you'll enjoy a feast fit for hungry hens including a hog roast and Sansa's Lemon Cake.
Game of Thrones Beer - And to accompany all that fine food each hen can enjoy a bottle of the official Game of Thrones beer.
Behind the Scenes Info - Spoiler alert! The adventure guides, who will play the part of the Night's Watch, have plenty of behind the scenes gossip from the show's filming.
See More Locations - There are nine more show locations for you to explore dotted around the landscape of this simply stunning estate. Some of them require hopping onto top of the range mountain bikes but don't worry, there are no White Walkers lurking there.
Hen Selfies - This really is an incredible location and there are no end of opportunities for great hen team photos or sneaky selfies you can instantly upload to social media "Me about to fight the Hound! lol".
Add-ons
You can also add private hire of Winterfell Tipi for lunch with 'open fire pit' & 'Ned Stark head on a Spike' marshmallow roasting. Ask our team for more details.