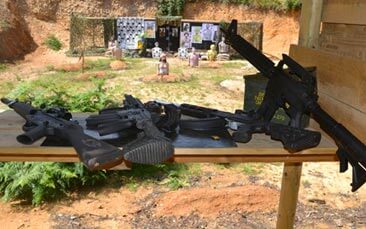 If Hollywood is to be believed (and surely the good folk in 'Tinsel Town' would never make things up) then it's only a matter of time before a zombie apocalypse threatens mankind. Shaun of the Dead, Zombieland, The Walking Dead, Janice Dickinson, are all proof that the living dead will soon be scratching at our doors and munching on our next door neighbours. Well when the going gets tough, the hens get going.

Our Bath hen party zombie survival training is your chance to learn all the skills you'll need to make the undead... well, deader.
You'll take up arms and learn a range of different ways to put those creepy leg-dragging, hazy-eyed, freaks back into the ground once and for all.

As well as some explosive action, you'll have lots of laughs along the way and there's also a competitive element (we've yet to meet a hen party who don't like to win) as you'll be competing against your fellow hens on each of the different rounds.

Assault Rifles (40 shots) - Yep, just like real action heroines you learn how to handle automatic weapons to take out the living dead from a distance using weapons such as the MP5, UZI and H&K 416 while aiming at exploding targets and zombie torsos.

Axe Throwing - You'll never hear anyone say "you throw like a girl" again when you learn how to aim these deadly Native American tomahawks.

Crossbow - Despite what Shaun (Simon Pegg) says you can't fight off zombies with cricket bats and old LP's but these crossbows will do the trick.

Clay Archery - A chance to rack up some points against your fellow hens. Please try not to leave the instructor looking like a pin cushion.

PLEASE NOTE: Lunch is also available on-site at an extra cost. Please ask our team for more details.