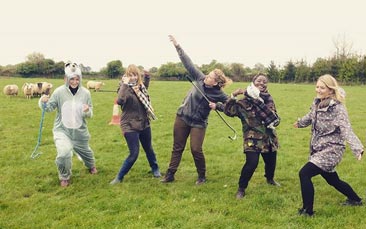 The beautiful, rolling countryside of the West Country is the perfect setting for an afternoon of fun 'down on the farm'.
Ok, sheep herding probably isn't the first thing you think of when booking a hen weekend, but yours is no average bride-to-be so you're determined to give her a weekend that is as wonderfully unique, quirky and downright bonkers as she is.
You'll need to come prepared with some sturdy footwear, these are farm fields so can be 'fragrant' underfoot. The farmer will walk you down the track to the fields where you and your sheep opposition can size each other up. The farmer will teach you the basic techniques and show you the herding course. You can now pick your teams then get herding.
This really is all about teamwork and communication and not the time to start feeling 'sheepish' (I'd like to assure you that the writer of this joke has been dealt with accordingly). It can also get hilariously funny as you all charge across the fields to keep your new woolly friends heading in the right direction. It's all a matter of speed, the fastest team to get the sheep to go around the course will be the winners.
At the end of the session, there is a nearby pub or farm shop where you can get some suitable Somerset refreshment. Cheers!
This is an afternoon full of laughs and also plenty of chance to get fabulous photos of all the girls in action. You can even dress for the part with flat caps and tweed, there'll be a special fancy dress outfit for the bride to wear.