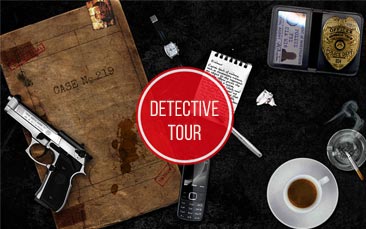 Fans of detective novels and TV shows will love this unique 3-hour self-guided Detective Challenge which will test your lateral thinking and deductive powers to the max. Whether the bride is self-styled Dr Nikki Alexander (Silent Witness), Saga Noren (The Bridge), Ellie Miller (Broadchurch) or Miss Marple (nice hat!) this is a fantastic race to solve the clues and identify the killer.

You and the girls will face a series of riddles and complex puzzles to piece all the clues together. The challenge will also suit competitive hens as your group can be split into teams to compete against each other. So you'll be able to find out who the True Detective's are and who wouldn't know if you stole a bit of choccy from them every now and again!

The journeys itinerary will take you to a number of famous landmarks in the centre of world-famous Roman City, with each holding a clue that you will have to figure out.
Once you have put all the clues together, you will then hopefully have everything you need to decode the mystery. However, do keep your eyes peeled at all times or you may miss crucial evidence. Or cake shops!

Success demands concentration, teamwork and the ability to think outside the box - do you have what it takes...? Or will the killer get away scot free?!

It's elementary, my dear hens!