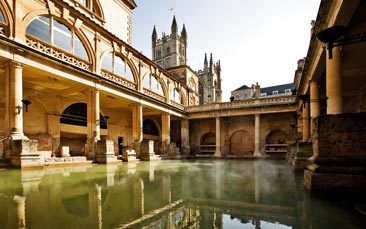 It simply wouldn't be a visit to this gorgeous city without an exploration of one of Northern Europe's most stunning and well-preserved ruins. Our Bath hen party roman baths experience will take you back to a time where bathing in the city's natural thermal waters was considered the height of sophistication. Anybody who was a somebody in Roman Britain hoped to visit here at some point, and just under 2000 years later, it can be an exciting attraction for your group of girls as well.
If all the talk of Roman pampering has you hot under the collar for a day of rest and relaxation, then you can add the following centrally-located activities:
You and your group of Lara Croft inspired Tomb Raiders can discover some fascinating titbits about Roman culture as you explore these amazing ruins. Having completed a £5.5 million redevelopment, the baths are now better than ever, with exciting exhibits and holographics demonstrating how the Romans socialised around the baths (unfortunately there were no Kardashians to gossip about back then).
The bride-to-be will love relaxing in these ancient surrounds as you and the hens wander around "The Great Bath", "The Sacred Spring", "The Roman Temple" and the museum containing a few of the amazing discoveries that've been made in the baths throughout the last century.
Our Bath hen party roman baths experience is a great way to spend a couple of hours on your special weekend in one of Britain's most historic cities. Discover surprising facts, see stunning ruins and make sure you take plenty of photos as you're taken back to the times where Togas were all the rage!