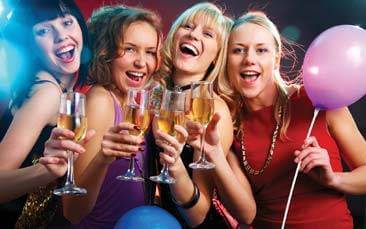 A lot of people go to Bath for the beautiful architecture, the Roman Baths and the luxurious spas; but those who have visited will always be blown away by the quality of the many pubs in the city. At GoHen, we are in a fortunate position to be based here and know the best places to go and we've picked you one of our favourites and created a VIP package.

After a hard day's play, you don't want to be squeezing into a pub looking for somewhere you can all sit together so we've lined it up for you. You'll get your own party pods fully loaded with drinks and nibbles. Each pod has a large screen TV, sound system so you can plug in your iPod and play your own tunes or if you're feeling really musical then the pods become your own private karaoke booths so you can sing the bride-to-be off in your own "unique" (?) stylings.

Right in the heart of the city centre, the venue comprises of two bars, two vaulted party pod booths, a conservatory and a large alfresco terrace area. There is a full, varied range of wines, cocktails, hot beverages, real ales, cider, craft beers, plus an extensive list of whiskies and Bourbons. Everything you need to get your party started!