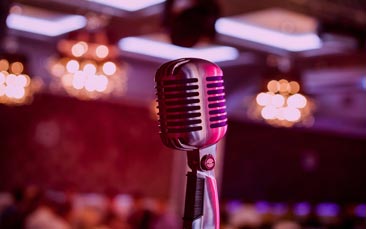 Hen parties are all about having a laugh and there's no finer way to get the laughter started than a top comedy night. This award-winning comedy venue has played host to some of the UK's funniest faces who have gone on to great things. In fact the last time GoHen dropped by (the club is very close to our offices) TV's Sarah Pascoe was among the three comedians performing.
Other notable comedy names to have played here include:
Milton Jones
Sarah Millican
Micky Flannigan
Jimmy Carr
Russell Howard
Rob Beckett
Mark Watson
Chris Ramsey
Jason Manford
And many more...
On arrival you'll get shown to your reserved table, you have time to get a few drinks in to wet your whistles before the show begins. A comedy compere will run the show, introducing three acts, some of whom you might recognise from TV panel shows such as QI, Have I Got News For You and Mock the Week. Straight after the show the venue transforms into one of Bath's leading clubs and the regular weekend musical movers and shakers will join the comedy crowd.
Comedy clubs are a much more relaxed setting for great comedy compared to theatres and stadiums and the stars are visibly more relaxed which makes for better shows with superb interaction with the crowd (although heckling is not a good idea, especially on a hen night as the comedians will always win any battle of wits, it's what they're good at).
This is a great way to start a fantastic night out and could prove to be the highlight of any weekend. It will certainly get the bride and her guests smiling. Plus it's better than listening to our jokes!