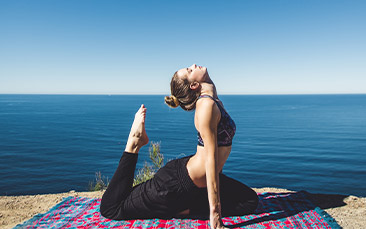 Just picture the scene, you're on the beach in the warm morning air, the sun is beginning to rise and is glistening off the Med, you and the girls are relaxing without a care in the world, you've just got the sand between your toes and a refreshing sea breeze in your hair. Sound good? Well with the Barcelona Yoga on the Beach Hen Party activity you can make it a reality. Arrive to watch the sunrise or turn up and watch it set after a fab day of amazing hen activities as you give the bride-to-be that much needed, pre-wedding, stress-busting activity.
On arrival, you'll meet your friendly instructor who will provide all the gear and some water for you all. You'll then begin your class and the relaxation will flow. We cater for all abilities, so you don't have to be a bona fide yoga guru to enjoy it.
Perfect for a yoga-loving nearly-wed or even for a stressed-out bridezilla in need of a little zen, you and the girls will spend an hour learning breathing exercises and stretches which will refresh you all, ready for a day ahead or an evening partying. You can then take your newfound skills back to Blighty where you can reproduce your own stress-busting yoga session in the comfort of your own home.
Once you've finished and you're zen'd to the max, get ready to explore this fabulous city at a relaxed pace with the amazing City Bike Tour. Getting your yoga on in the evening? Once you're suitably chilled out, enjoy a delicious Hen Dinner and Drinks before you hit the town for your big hen night out. Be sure to speak to a member of our friendly team for more info about creating that utterly amazing and totally relaxing hen weekend away in Barcelona.