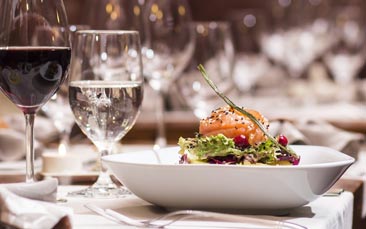 Our hen dinner and drinks is a fantastic way to get a big night out started. You can sample a real taste of Spain by plumping for healthy, Spanish cuisine, cooked using locally sourced ingredients. Or you can opt for a fantastic steak, cooked in sizzling style. Spanish steak really is fantastic and a real treat for the meat-eaters among you. Whatever tickles your taste buds there is plenty to choose from with a sumptuous 3-course menu that will suit even the most fastidious or finickity of diners.

We'll send you a set menu to peruse ahead of your weekend so you can get a taste of what's to come.

Heading out with a group to eat can be tricky, especially in an unfamiliar city. We visit all our destinations and handpick our hotels, restaurants and activities so we can ensure they meet our high standards, that means this won't be a hit or miss affair as we regularly review all our suppliers, if they don't meet our taste test and don't meet the liking of our hens then we won't use them. It really is that simple and means we can be sure that you'll get a fantastic feed up ready for the dancing and possibly drinking ahead.

There's no need to go thirsty either, the first round of drinks are all part of the meal, you can then order extra bottles of wine and spirits as you see fit (at additional cost).

If you really want to add a little more fun to the early evening dining experience then you can surprise the bride-to-be with a sexy stripper as an added extra (speak to your account manager for details). Of course, the nearly-wed won't be the only one at your table who will enjoy a Latino hunk with that ever so sexy Spanish accent. And it really will kick start your evening with something you can all smile about late into the night.

Viva Espana! As they say in... er... Espana.