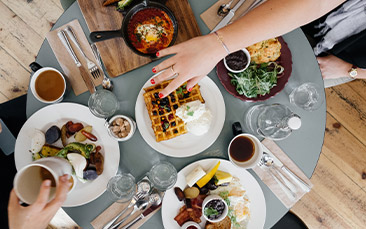 Breakfast? What, you mean dragging yourselves out of bed at "Urgh, is that the time?" o'clock. Not on a hen do you don't! Especially when you've been partying until the early hours in one of the city's mega clubs. No, us girls need a more hen-friendly time to get up, that's why some genius invented brunch. Hold on a second though, this is not just brunch, this is brunch on a rooftop terrace, brunch whilst you're soaking up the Spanish sunshine, brunch with amazing views over this stunning city, this is the amazing Hen Party Barcelona Rooftop Brunch.
You and the girls will rise at a more leisurely hour and saunter to this brilliant city centre venue where your reserved table will be waiting for you. That's right, no trudging around in the blazing heat trying to find somewhere to cater for you all, you'll just turn up, sit down, take in the views and be waited on hand and foot. There won't even be any faffing about at the end trying to sort out who owes what as it's all prepaid.
The food itself is the perfect detox after a night on the town. Healthy, hearty bites which will reinvigorate you for the day ahead. It won't spoil that pre-wedding diet, either, which you have been rigorously sticking to. A whole host of healthy options which will please even the fussiest of hens.
The menu:
Natural juice with seeds
Tea and coffee
Flavoured water
Yoghurt with muesli and fruit
Sandwiches and a side salad
Avocado on toast
Wholegrain muffins and pancakes
A selection of fruits
After you've finished and grabbed a few amazing snaps of the view for your Instagram Story you'll be ready to head out for another big day ahead. Make sure you throw in a few amazing hen activities while you're away in this amazing party city. At GoHen we offer everything from Cocktail Mixing to Spanish Cooking Classes. Speak to a member of our friendly team today for more info about creating that wonderful weekend away.