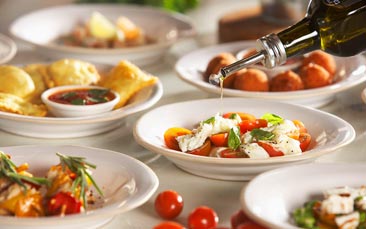 You know how it is, get lots of women together and try to find a restaurant suitable for everyone, you'll end up with thirteen different people suggesting seven different styles of food. You'll then walk around for what will seem like hours, trying to find somewhere that just happens to have a table for fifteen hungry hens at short notice (Hen Party Tip, if you find a restaurant that is that empty at a weekend, there's probably a good reason people are choosing not to eat there).
Nobody wants to have to put up with that kind of stress, especially when all you want to do is give the bride-to-be a great night.
But with GoHen, you can wave goodbye to all that dining drama with a crisply ironed napkin. We'll arrange for your table to be ready and waiting for you, even the bill will be prepaid so there's no trying to figure out who had what and who owes how much. You can simply turn up and tuck into a hen feast. Opt for two or three courses of fabulous fresh Italian cuisine at this popular city-centre restaurant.
Options you can choose from include:
Antipasti
Giardiniera Salad
Mortadella Piadina (flatbreads)
Beef Carpaccio
Main Courses
Pizzas - A selection of fresh pizza made to order
Spaghetti Bolognese
Tagliatelle Giuseppe
Bucatini
Four Cheese Gnocchi
Neapolitan Chicken & Fries
Pork Steak & Vegetables
Desserts
Desserts are seasonal and the dessert options change daily.
Drinks
Each of the hens will also receive:
One drink each (wine, beer, soft drinks or water)
Coffee
A shot of Limoncello
We can also cater for any special dietary requirements, please let us know one week prior to your event date.
So there you go, all the flavour, none of the hassle and the perfect start to what is sure to be a fantastic evening.