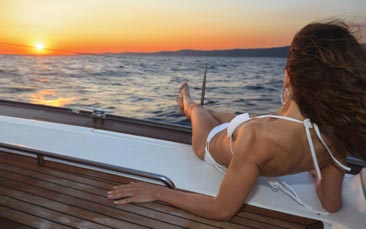 There's nothing better than sitting on the deck with your best friends around you and a glass of champagne in your hand watching the beautiful sights of Valencia glide by! Our Valencia sunset catamaran cruise makes this dream a reality for you and the girls, and you'll soon be soaking in the Spanish atmosphere aboard your very own private vessel!

This one and half hour long catamaran cruise comes complete with a glass of champagne each and the chance to watch the glorious Valencia sunset as it paints beautiful patterns across the gorgeous Mediterranean sea, accompanied of course by your favourite girlfriends. It's available all year round and the time of departure depends on the average sun setting time - in summer it departs at 8 pm.

Whisk the stressed-out nearly wed away to a place of heavenly hen bliss aboard this incredibly stable vessel and enjoy some of the best views of the serene Valencia coastline available to hen kind. It's absolutely fabulous!

This is also a great way to break the ice between any unfamiliar hens and bring the whole group together. Don't forget to grab an Instagram worthy group selfie for all the girls to remember the cruise by! Give the girls an experience they'll never forget and make the most of your evening in Valencia with this serene sunset catamaran cruise.