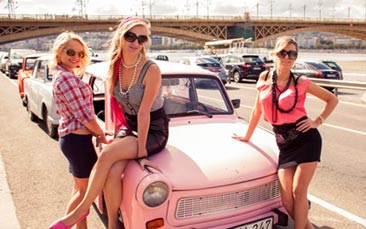 If you're looking to give the girls the opportunity to get hands-on with some seriously gorgeous, retro-chic cars on your big weekend in beautiful Budapest, then our hen party Trabant rally is a must. These fabulous cars are genuine icons of Eastern European engineering, and they offer the ultimate driving experience for you and the ladies to enjoy on your hen weekend.

The Trabant began life as East Germany's answer to the Volkswagen: cheap, agonizingly slow and notoriously unreliable. Since then, the charms of the Trabant have multiplied tenfold, and it's up there with vintage VW Beetles and Citroen 2CVs as one of the most pretty and cool cars around.

So what better hen activity could you ask for on your special weekend than the once in a lifetime opportunity to take one of these collectable classics through the streets of Budapest? No, these cars aren't the fastest thing on four wheels, but they were never meant to be. With a two-stroke engine, a Duroplast (plasticised cotton waste) frame and a top speed of 56mph, these Trabants will give you and the hens a relaxed, fun driving experience.

On your Trabant rally, you'll get to see the stunning city of Budapest from behind the wheel for a change; you'll also get the unique opportunity to head out of town and into the attractive Hungarian countryside, where you'll really get to make the most of your time in the Trabants.

With good food, fantastic company and beautifully retro rides, this driving experience is sure to be one of the highlights of your weekend. This is an exclusive and unique way of seeing Budapest, and it's guaranteed to make some unforgettable hen do memories.