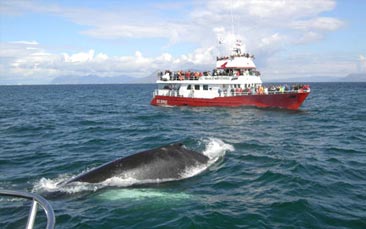 Every hen party should be truly memorable and a day of whale watching really is a memory that all the hens will treasure long after the confetti has landed. Close encounters with these majestic beasts really are something a little bit special.
Our hen party whale watching trip takes place in the Atlantic Ocean which is rich with incredible and scientifically significant ocean wildlife. The crew and spotters know the best waters to spot these wonderful creatures and will guide you through waters that are also popular hunting grounds for porpoises and dolphins.
The adventure will start with transport from your accommodation, we'll arrange for you to be picked up and taken directly to the port. On arrival, you'll be welcomed aboard by the friendly crew and once underway all the hens can enjoy the free bar with beer, wine and soft drinks (NO SANGRIA). You'll also be given a sandwich/ bocadillo.
But not all the action will take place onboard the boat, in shallower and safer waters the boat will make a swim stop so you can actually hop overboard and swim in the Ocean. It's certainly a whole lot different from your local pool! The water around Tenerife is crystal clear and the most popular whales to be seen are pilot whales, the males grow to around 7.2 metres on average (nearly the length of a bus!) and weigh up to 2,300 kg.
Being that close to these amazing creatures really is something special and should definitely be shared with great friends.