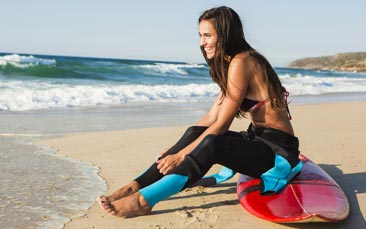 It's just one of life's irrefutable truths… Surfing is cool. There's no ifs or buts, if you want to look like a totally hot beach goddess then you need to learn how to ride waves because "surfer chicks" are awesome!
You'll head to one of Tenerife's most amazing beaches where our team of friendly instructors will greet you. First thing is to get everyone into the wetsuits, making sure you all grab those hen do selfies and a team photo. You'll then head onto the beach where the (rather hot!) instructors will show you the technique to get from a sitting to a standing position and how to 'ride the board' (stop sniggering at the back!).
Once everyone is feeling confident it's time to hit the waves. The instructors will be with you throughout the two-hour session giving everyone tips and pointers so the whole group really do get the most from the session. We can also arrange for a photographer to be on hand (for a small additional fee) to capture the best of the action and snapshots of all the girls ripping those waves!