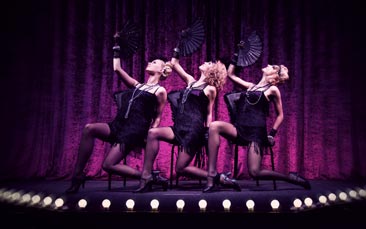 Sisters are definitely doing it for themselves during this hilarious night of outrageous comedy. Whether it's poking fun at ('ripping into') big-name stars, having fun with classic movies or teasing the audience, these fantastic gals really don't hold back. It's a whirlwind of a show that all the hens will love but not always totally PC. The comedy really is a superb and as the girls themselves say "There won't be a dry seat in the house".
With live singing, dancing and side-splitting comedy routines you'll soon be singing along at full force and joining in with the brilliant audience participation. It's a hugely successful, award-winning comedy show that has now been running for 20 years.
Transport is not provided but that's not a problem, the venue is close to the centre of Las Americas so you can stop off for a quick drink on route or arrive early. All the hens will enjoy a three-course meal and you can also upgrade to include a free bar which will really help get your party started.
As great night's go, our Tenerife hen party cabaret show really is a cut above and a superb start to what will surely prove to be the best night of the weekend. And the fabulous hosts absolutely love seeing hen parties in their audience so you can be sure there'll be plenty of funny and completely impractical advice that the "girls" will share with the blushing bride-to-be. And once the shows over our team will be happy to help you line up even more fun such as guestlist nightclub entry. Please contact us for more details.