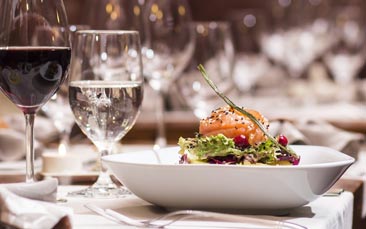 Napoleon once said that a good army marches on its stomach, now we're not entirely sure if that theory carries through to hens but we certainly don't want any of our groups going hungry. That's why we'll save you the hassles of walking the streets of Tenerife trying to find a good restaurant... We already have a GREAT restaurant with beach and sea views, what's more, we'll get everything already lined up so you can relax and unwind with the rest of the girls rather than feel you still need to taking charge.
So that's no walking around looking, no worries about whether they have another room for your party, no worries over what is on the menu (this great place has a great menu with something to suit even the fussiest hens) and no need to do a Rachel Riley. Everything will be prepaid so all you'll need to bring is some cash for your drinks and any extras.
And with the restaurant sitting right beside the beach you'll get to enjoy a cool evening breeze and be within easy walking distance of the best bars and clubs. This really is a fantastic way to set up you evening with no stress and let us do all the worrying for you allowing you to tuck in and have a great night out. Bon appetite!