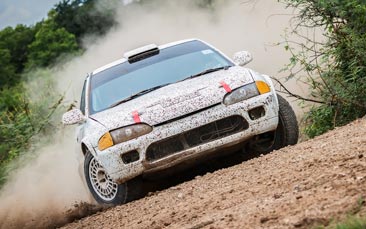 Fast and Furious hens rejoice! This rally driving session will sort the hen stigs from the captain slows as the ladies learn to speed around the rally course like a regular Colin McRae! This is an unforgettable experience and promises to deliver white knuckles, adrenaline-fuelled hens and pounding hearts aplenty.

Any speed demon hens out there get ready: this activity is perfect for you and your Fast and Furious girlfriends! Rally driving is the premium racing experience for hens - if you're ready to let the boys know who the real champion drivers are in the battle of the sexes, it can't be missed. Pushing your driving abilities to the absolute limit, you'll learn all of the techniques of the champions - as well as a few techniques you can use for just showing off. Wheels spinning, skidding and sliding... a day spent rally driving with the girls is sure to be a talking point for years to come.

Rally driving is available in three of our top destinations, perfect for learning some new skills, taking command of some fast-paced vehicles, and creating some unforgettable group memories with your best friends! If you want to get your hearts racing as fast as the cars, rally driving is the top choice!