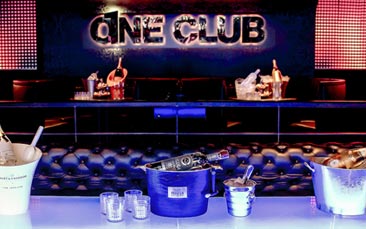 O1ne Club is where everybody who's anybody hopes to be on a weekend in Prague. But you aren't just 'anybody', you're hens on a mission to have the night of your life. We'll give you the VIP treatment, so you can give the bride-to-be the A-lister night she deserves.
GoHen has lined up a bit more of, well, 'more' for you and the girls.
More VIP
You won't need to waste energy that could be saved for twerking, walking to the club. Our friendly guide will meet you with a taxi and deliver you to this amazing venue. There'll be no queuing for you we've sorted priority entry for you and the girls, so you can wave bye-bye to the rest of the paying party-goers and head straight for your VIP box.
More drinks
Yep, you read that correctly, VIP box. But it gets better. You'll be greeted by a bottle of spirits, mixers, a selection of snacks and a round of welcome drinks to get the night started in style.
More everything
O1ne Club has five super-fast bars, two DJ stages with Prague's hottest talent and three brilliant floors of stunning nightlife to explore. It's no surprise that this club is considered one of the city's best by the party-loving locals.
The venue also features stunning live dance and music performances. Whether it's the high-tech sound system, futuristic LED lights or luxury vibe of the club, it's the kind of place that hen parties were invented for.