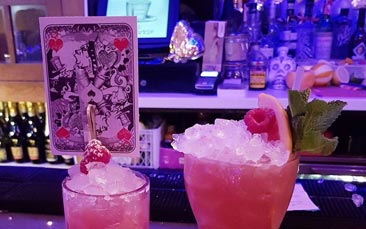 Ok, it's possibly fair to say that you've made yourselves 'familiar' with the odd cocktail or three over the years. We're certainly not casting aspersions, we're simply pointing out that if there was an Olympic event for dancing while holding a cocktail then you could well be a medal contender.
And the cocktails are cool. They're also incredibly classy and trendy, especially when served in vintage teapots. This amazing class is perhaps our best ever cocktail workshop, taking place in a funky themed bar that we simply adore.
You'll be greeted by your mixologist and he'll introduce you to all the ingredients in the bar which you'll have completely to yourselves. It's then time to get hands-on as you're shown the first drink. It's then your turn as you go behind the bar to recreate the gorgeous drink (tasting as you shake purely for 'quality control' of course). The second drink is one of the bar's signature teapot cocktails. Once again you will need to get mixing. In all, you'll make three fabulous cocktails and then, well you'll need to go through the arduous task of drinking your hard work.
The themed venue has a quirky twist around every corner that Alice and the Queen of Hearts will love. And the fun doesn't have to end there, you can also enjoy
Private karaoke booth
Private party room
Buffet
Spirit tasting
Please ask our team for more details.