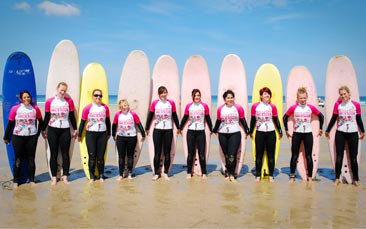 "It's like totally radical beach dude!!" As one of the most awesome, thrilling experiences surfing is quite simply outstanding hen party fun. In fact, it is one of the coolest sports on earth - enjoyed by an estimated 23 million thrill-seekers across the globe.

As the indisputable UK home of surf, Newquay is an absolutely perfect destination for hen groups looking to tackle the ripping waves and attracts surfers from around the world (it even hosts stages of the world championships). It is something that you can't find in many places in the UK, and certainly not to the gnarly standard here in Cornwall.

With half and full day hen party surfing sessions available, you'll receive expert tuition and whether you're complete novices or daring watersports enthusiasts everyone will get something from the session and you'll soon be "hanging ten" with the best of them.

It has never been this easy to book a surfing hen session and really does offer the bride-to-be and her guests a totally new experience and something you'll all remember for a long time, making it an ideal addition to your hen weekend.

On arrival, you will be given a safety briefing and introduction, and then it is time to change into the wetsuits provided. The expert instructors will then show you the basics as you take to the water and grab your first waves.

Hen party surfing is ideal for hens looking to get sporty and active - so why not pack your swimsuits and get amped! Cowabunga, dudettes!