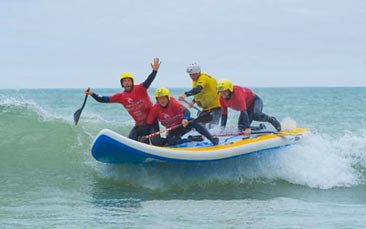 This is without any doubt, the BEST way to see this gorgeous stretch of coastline. If you have never heard of SUP then it's really quite simple. SUP = Stand-up Paddleboarding, so 'Giant' SUP must mean… (anyone who said "Paddleboarding for giants", will stay after class). These are giant boards that groups of hens can ride at once. You propel them through the water using the long paddles while either sitting or standing. You also have to really work as a team to make sure you don't tip over the paddle by mistake (early swim for everyone).
The session begins with all the hens getting kitted up with wetsuits, helmets and life vests. Of course, you can stop to take those all-important hen party selfies. You'll then learn the basics on the beach as well as a quick safety briefing. Then it's time to hit the waves. You'll set off along this simply stunning stretch of coastline. You'll explore smugglers coves as well as spots often used by sunbathing seals and other incredible marine life.
You'll try a beach landing and then play a few team games on the beach. Games faces on, it's no more Mrs Nice-Hen as you do some racing on the waves. It's all to play for here as one team gets to take the day's bragging rights.
You'll then paddle leisurely back to the starting point still keeping an eye out for the diverse wildlife to be found in the Newquay waters. It's a great way to work up a thirst ahead of a great night out.