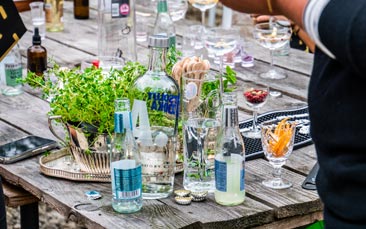 No two letters are quite so welcome or have quite so much appeal at the weekend;
H&M
M&S
B&B
Nope... If you're looking for a good time then G&T is surely the only way to go!
Our amazing Bath and Bristol hen party gin tasting extravaganzas really are a fantastic way to get the party started while learning some cool facts about your favourite tipple.
The first thing you'll get is a welcome gin and tonic which is a pretty fitting way to start any relationship, our friendly host will then give you a little bit of knowledge. But don't worry, this isn't boring anorak type stuff but amazing foodie facts and ideas (for instance, did you know you can make your own gin at home? It's actually really easy!)
Next up, you'll sample 3 fabulous premium gins. And just in case you've still got a thirst, you'll then get to join in and have a go at making some rather potent but ruddy marvellous gin inspired cocktails.
So, three cheers for gin! But please be aware this is a very popular activity so do enquire ASAP to avoid disappointment.
You can also add the funky retro mobile bar*, we'll arrange for it to roll up at your self-catering accommodation where it will look like it's just arrived hot from a sunny music festival *and the chances are it will have done).
A small additional fee will apply, please ask our team for more details.