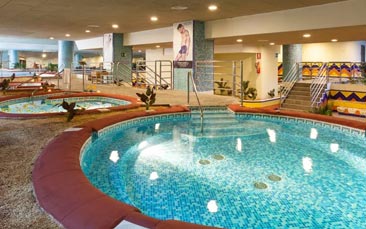 Enjoy a fabulous afternoon of total relaxation in one of the best spas in Costa del Sol located in a luxury hotel.
Our spa session hen party in Marbella gives you time for pampering, chilling and catching up on all the wedding plans whilst rejuvenating your skin ready for another great night out.
You'll have full use of the spa which includes:
Hydrotherapy pool with jacuzzi
Swedish sauna
Turkish bath
Ice room
Gym
Swimming pool
Treatments
Each of the hens will also enjoy a 15-minute massage. But if you fancy even more pampering we can arrange other treatments for you.
Our spa session hen party in Marbella is the perfect way to unwind and catch up on some well-deserved rest. Because let's face it, Marbs is the perfect party destination but sometimes you need a little recuperation. Especially for the bride-to-be. After months of often stressful wedding planning a day beside the pool, in the sauna or enjoying a stress-busting treatment could be just what she needs.
Please note; Extreme temperatures are believed to have fantastic health benefits but always best to get some expert advice before you start hopping from the ice room to the sauna. There are experts on hand to answer your questions and give you tips.