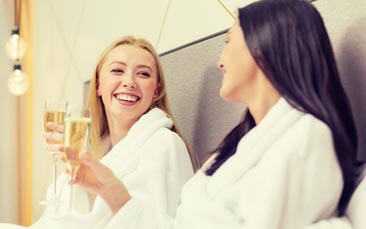 Don't even think about it... In fact with this fantastic Marbella hen pamper party you don't need to think about a thing. Certainly not wedding planning. The bride-to-be and all her guests can totally switch off and enjoy a fabulous treatment from our team of experts. And best of all, they'll come to you!
There's no need to head out and let the sun's glare dazzle any hangovers, the therapists will come to your accommodation so you can stay in the cool shade and sip a little something fizzy. The team will arrive and set up as you relax, then each of the hens will receive the 25-minute treatment of their choice. This is a great treat either the morning after or evening before a big night out.
There are a range of treatments to choose from:
Massage - back, neck and shoulders
Indian head massage
Foot massage
Facial massage
2 mini massages
Mini manicure
Mini pedicure
Larger groups might find some of you are waiting around for your turn, but times never wasted with a glass of champagne in your hand so this is the perfect time to get a bottle of bubbly in so everyone can toast the nearly-wed.
Marbella is a land full of VIP treatment and pampering making this special pamper party absolutely ideal for your big weekend, especially for the bride-to-be after weeks of often stressful wedding planning. Then once everyone is feeling good and looking fab you can enjoy the evening on a Party Boat or at a hilarious Male Strip Show.