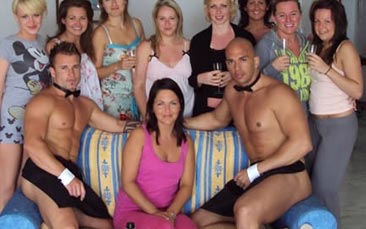 At GoHen, we take your health very seriously, we would hate to see you going without on your hen weekend no matter how fragile you might all be feeling in the morning. After all breakfast is the most important meal of the day you have to take it on your once in a lifetime hen do.

Well, now you can wake the bride-to-be up with a breakfast surprise that's even better than finding out it's a snow day!

Imagine the nearly-wed's surprise when she rises to find breakfast served with a glass of bubbly by a gorgeous butler in the buff on hand to look after the bride in your apartment. It's not a bad way to ease the rest of the girls over their hangovers either! Even the sorest of heads will be instantly transformed with a smile as they get an eyeful of the incredibly hunky waiters who will be on hand to make sure the bride and her guests are truly catered for.

It is quite correct that on a Costa del Hen Weekend only the very best will do and there can be no finer way to kick start another fantastic day of hen party shenanigans than our healthy, hunky, champagne 'brekkie'.

In this essential package, you will be treated to delights for more than one of your senses, as you start the day with bubbly, croissants, cakes and a fresh fruit platter.

So just to make sure we have this clear...
Fresh fruit platter
Pastry
Cakes
bubbly
Semi-naked hunks
Yep! That just about covers your five a day!