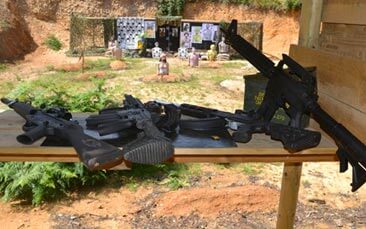 Now, don't be fooled by what you might have seen on movies like Shaun of the Dead, it's not all cricket bats and funny one-liners. This zombie fighting is serious stuff, the fact that you and the girls will have a great laugh and some competitive fun while beating off zombies (stop giggling at the back...) is an added bonus.You'll handle a series of big weapons (I mean it...) as you give those zombies a jolly good thrashing (I give up!)

Our hen party zombie survival instructors will teach you the following skills, the hens will then be competing for points as they progress to add a little friendly competition to your session.

Assault Rifles (40 shots) - Much more deadly than Showaddywaddy albums (take that Shaun!), you'll fire .22 assault riffles such as the MP5, UZI and H&K 416 at exploding targets and bleeding zombie torsos.

Axe Throwing - You'll throw American style tomahawks at huge wooden targets to score points.

Crossbow - These seriously powerful crossbows will certainly wipe the smiles off their undead faces.

Archery - Kind of like darts. Very, very big ones. And more exploding targets!

Clay Archery - Your final chance to score points and take the zombie killing title (and possibly be put in charge of protecting the girls from zombies for the rest of the weekend).

Lunch is also available on-site at an extra cost. Please speak to your account manager for further details.