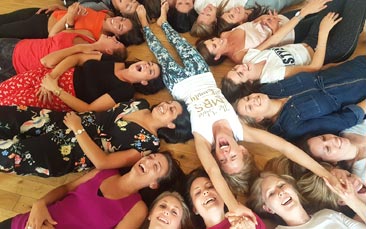 We're firm believers that laughter is what every hen party is about - plus fun, relaxation and a great time with your favourite girls! Our hen party laughter yoga experience is a totally unique activity, including quirky, fun and stress-busting laughter exercises. You and the girls will get fully involved in laughter warm-ups, laughter yoga, laughter meditation and loads of giggles to help you laugh your way to a stress-free afternoon and bond with the whole group!

This playful laughter experience uses techniques that are relaxing, spontaneous and dynamic so you'll be working out your whole body while having a great time. This fabulous activity is perfect for all ages and levels of fitness to get involved. Saturday sessions are perfect because they kick start your group into laughing the whole weekend as well as breaking the ice between any guests who may not know each other.

The bride-to-be is sure to thank you for this, she's bound to be worrying about the big day going off without a hitch and laughter yoga will be the perfect tonic to all her bridal anxieties.

Your expert instructors have years of experience under their belts and are well placed to take you through the moves and put a smile on all your faces! Why not make it the ultimate in girly bonding and indulge by following up your laughter yoga session with an indulgent chocolate making session? Turn chuckles into chocolate tasting with the perfect afternoon, just ask your account manager for more details!