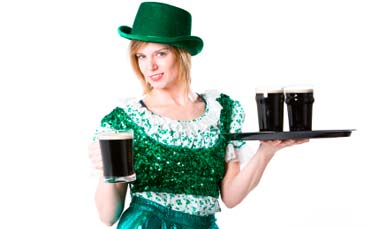 Our Irish show hen nights are electrifying fun with thrills aplenty, and laughs so big you might end up reapplying your mascara before you head off for your evening's activities!

Enjoy an evening of the famed Irish hospitality along with superb modern Irish food. You and the ladies will be treated to a delicious three-course meal, where you'll choose from familiar dishes featuring some exciting Irish twists! You can tuck into a Guinness stout pie; Louis' Irish lamb stew as well as beer-battered Atlantic cod fillet and double cooked chips, plus more. Yum!

The entertainment on offer here is just as varied as what's on the menu. You'll see some hilarious Irish comedians, traditional Irish music artists, and a phenomenal main event of World Champion Irish dancers!

If your bride-to-be is a fan of the world-famous Riverdance and Lord of the Dance then this is definitely for her. You're all sure to be left picking your jaws up off the floor when you see these amazing performers move their legs at impossible speeds in Ireland's most thrilling dance experience.

As well as having a reputation with hens as being some of the best quality entertainment to be found in the city, our Irish show hen nights are completely exclusive to Dublin. This means that you and the girls will be getting a performance that is truly one of a kind, and will certainly be unlike anything you've seen at home.

So why not add a little authentic Irish flavour to your hen party? You'll experience the very best of traditional Irish culture before you head out to some of the cities best pubs and discover a little more!