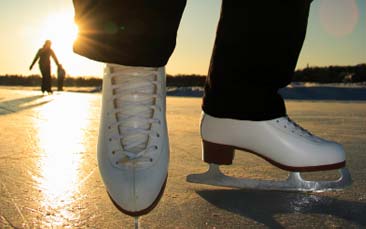 Is the bride-to-be feeling the pressure of the big day as it gets closer and closer? Why not give her the chance to Let it Go on this frozen fiesta! Our hen party ice skating is chilled out fun that's sure to get all the girls smiling as they glide around a fabulous ice rink.

Most of us tried on a pair of skates at some point during our childhood, and now your hen party will have the chance to roll back the years as you pirouette on the ice.

Far be it from us to suggest you'll be anything other than absolutely stunning as you twist, spin and glide your way across the ice. Even if your style is more 'Bambi on ice' than queen of the bolero, a couple of hours skating is always good for some laughs.

Make some fantastic memories as you soar around the rink like Torvill and Dean. If the bride-to-be was a fan of Dancing on Ice, she's bound to love this relaxed experience that'll allow you and the girls to spend some quality time while learning some exciting new skills.

Hen party ice skating is a hassle-free activity that is both laid back and constantly entertaining as you try not to slip on the rink. Everyone will be able to get involved here, and the bride-to-be will love having her nearest and dearest together in an activity that could prove to be a real ice breaker!

Whether you impress with your figure skating skills or a spend most of your time just trying not to end up on your tush, getting silly on skates is a fantastic way to get your weekend off to a feel-good start.